History of the Saatchi Gallery
The Saatchi Gallery was opened in 1985 by Charles Saatchi , he opened the building the showcase his own collection of contemporary art the the public, and from then on it has been used to showcase many up and coming contemporary artists work. The gallery has occupied various buildings, originally opening its doors in a north london premises, from there it moved to the South Bank near the River Thames and is now located at the Duke of Yorks HQ, Chelsea.
Since its opening in 1985 the gallery has been a huge influence in britains art movement.  Whilst most of the work that is on display is by unknown artists to the general public and media, the gallery has helped launch and springboard many successful careers in the art world.
In 2019 the Saatchi Gallery became a charitable organisation, this means that the gallery relies solely on charitable donations , private donations and public support to enable it to stay open and continue its mission to provide an innovative platform for contemporary art and culture, supporting up and coming artist and making contemporary art accessible to all.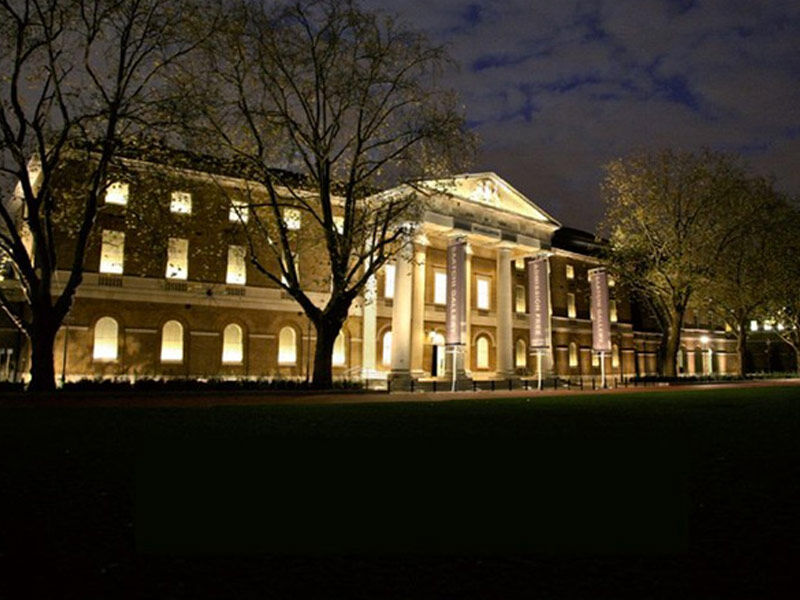 Image credit: http://www.khawlaart.com/sheikhakhawla-eventphotos.php?id=3&languageid=2
Image credit: https://www.theartnewspaper.com/news/london-s-graduate-artists-deprived-of-degree-shows-showcased-instead-at-the-saatchi-gallery
Whats on at the Saatchi Gallery
Over the years the Saatchi Gallery has had many exhibitions including works by artists including:
Andy Warhol
Frank Stella
Jeff Koons
Sigmar Polke
Damien Hirst
Dexter Dalwood
Karen Heagle
They continue to change exhibitions so there is always a chance to see something wonderful on display.  The frames used to showcase the contemporary artwork is varied and you can see some wonderful framework and workmanship on display showcasing some of the artwork.
They also have online galleries if you can not visit the gallery and also ways of buying the artwork on display in some instances.