Fact One
Van Gogh once said 'A picture without a frame is like a soul without a body'.
Image credit: https://www.biography.com/
Image credit: https://pixabay.com/
Fact Two
Frames are NOT copy written.  There is no law to stop anyone from imitating any kind of frame, from antique to modern. Many frames have been and still are replicated to look like frames from earlier centuries.
Fact Three
Egyptians used to carve frames for their artwork from the same piece of wood as the actual artwork and paintings themselves, so that the finished piece was all one continuos piece of work.
Image credit: https://phys.org/
Image credit: http://se1pictureframes.co.uk/
Fact Four
Frames are not just used to compliment the work displayed, they are actually a key importance to preserving and protecting whatever is being housed inside.
Fact Five
Over the years custom made picture frames are becoming increasingly popular.  They can be made in many different styles and colours from many different materials and can be designed and styled from the places they are to be hun, using decoration, location furnishings and style to help make them a perfect fit into any environment.
Image credit: https://www.pictureframes.com/
Image credit: https://www.dailymail.co.uk/
Fact Six
Wealthy estates slowly began to commision works of arts so that they could be displayed in their homes.   This brought a need to design functional frames that can be portable too.  These were produced by furniture builders rather that the artists or architects previously.  These are what we use in the modern world today.
Fact Seven
Frames themselves were used as works of art.  During Renaissance Italy frames were elaborately featured in Churches, Cathedrals and Alters to house paintings of  important religious figures commissioned by the church.
Image credit: https://www.artyfactory.com/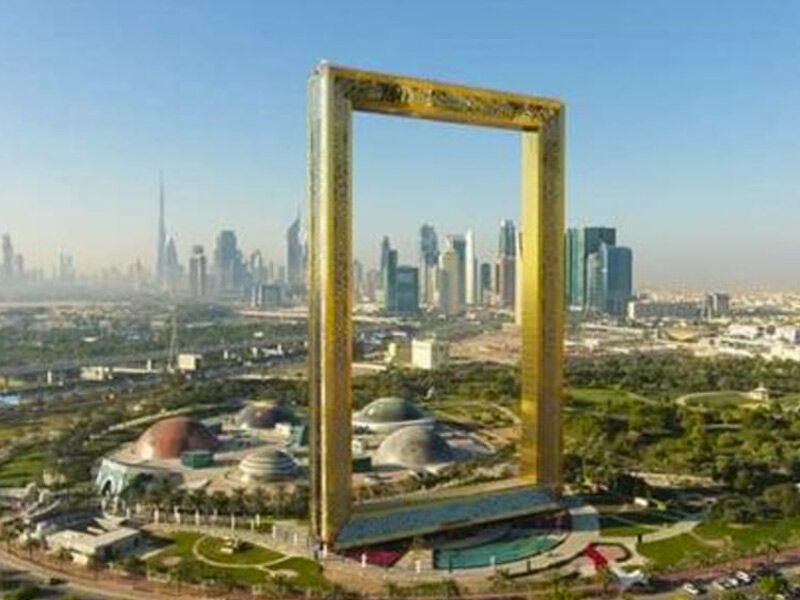 Image credit: https://www.gulfsothebysrealty.com/
Fact Eight
Dubai is home to the worlds largest picture frame.  Measuring a great 150m x 93m.  It stands in position as a divide so that when you look through it you can see the old and new side of the country.
Fact Nine
Lara Khoury own the largest collection in the world of picture frames.  From the United Arab Emirates, Lara started collecting in 1992 and to date she has 2214 empty picture frames in her collection.
Image credit: https://nibsblog.wordpress.com/
Image credit: http://www.lalineabella.com/
Fact Ten
Frames are continually changing, historic events and different eras and time periods all impact the ever changing design of the frame.  Frames are something that will never become outdated, they will continue to evolve and the older frames will continue to become more and more beautiful and desirable over time.