Frames are no longer just being used for displaying luxury artwork.  Times are changing and frames are being used for many other things, including one of the most surprising events of all – weddings.   In fact, period frames have fast become one of the most surprising ways to make your wedding day stand out from the rest.
With that in mind, and our framing business being built on flexibility, here is our list of the most creative ways you can incorporate picture frames into your special day.
1: Finding Your Seat
There are many styles of frame out there that can be incorporated into your special day, whether your theme is modern, vintage, princess or even shabby chic.
The use of a frame is a unique and lovely idea to display your seating plans to your guests. It allows your plans to be clear, classy and gives that added extra feel to your guests.
2: Celebrate Your Love Story
Walls of love at your wedding is something that is becoming increasingly popular, couples are now enjoying showcasing to their friends and family their unique love story and journey from how they met to walking down the aisle, this may even include some special family memories from when they were children.
What better way to display these than in some beautiful designed frames. This will take your pictures to the next step and really give the wall an elegant and classy feel.
3: Photo Booths Are Always Fun
Framing doesn't always have to be traditional. One of the increasing trends at many events is photo booths.
What better way to capture family pictures and memories with your friends and loved ones at your special day than with a photo booth. Frames are used to hold up by the party, framing you inside whilst a picture is taken. This is a fun way to create pictures and art.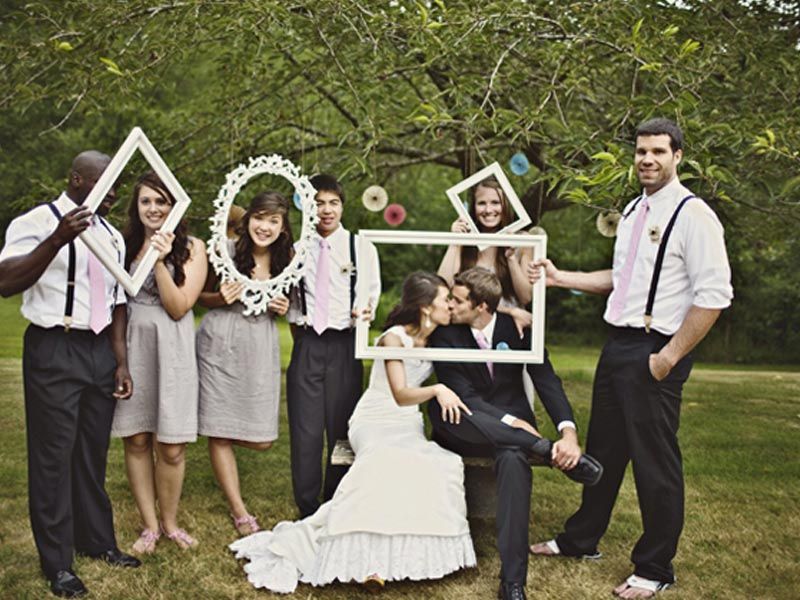 4: Framing Flowers
Why not try to add flowers to pictures frames.  It may sound a little odd but this is a lovely way to incorporate frames into your day.
If you are looking for something different that is in keeping with the feel of your special day why not use frames to decorate your venue.
Many people are taking some beautifully designed frames and filling them with flowers to match the wedding party and displaying them.
These really are stunning and a great way to create unique decorations that stand out.
5: Photos Of The Bride And Groom.
Using frames again for taking pictures, but in a different way to the photo booth is a romantic and magical way to add something extra special to your pictures.
Incorporating frames into your wedding photography is a great way to capture truly memorable pictures that will lift and add to any normal shot.  You can add an almost whimsical feel to any of your pictures and really play around with how you want your memories to be captured.  Speak to your photographer on your consultation about adding the right style frame to your special pictures.
6: Place Card Settings.
It is an age old tradition that at every reception meal there is a seating plan and place card settings to indicate where your guests will be seated, usually this is done with a small folded place card with the name of your guest on.  If you want to give that added extra feel to your day why not try adding frames.
Placing your card settings in a small elegant frame on your table not only looks stunning but they are a great reusable keep sake for your guests to take home.  This is a trendy yet elegant way to set your special day apart from any other.
7: Table Centre Pieces And Decorations.
Table décor at weddings is increasingly becoming the focal point for your venue and guests. Gone are the days where you would have balloons or flower arrangements in a vase.
Incorporating frames into your table decorations is a modern and elegant way to really give a wow factor to your venue and tables.
Frames can be incorporated in a simple or an elaborate way depending on your theme. Just a simple placement of a frame in the centre of the table with some stunning flower arrangements inside giving them an almost framed look is elegant and classic, but you can also use frames to layer up and build a decoration in itself.
8: Say Something To Your Guests.
When you hold your big day it is important that communication with your guests is vital but we don't always have time to do this ourselves. Using frames is a great way to communicate with your guests, whether it's displaying a menu, writing a welcoming message or just putting scattered messages of love around.
Incorporating chalk boards into your wedding doesn't sound that elegant in fact it sounds more classroom than ballroom but if you use a frame and put the chalk board inside it will be transformed into something stunning and practical for your special day.